I have edited literally hundreds of thousands of NFL images. I've been to three Super Bowls. I've met Cam Newton, twice.
But I'd never shot a frame of NFL action until Sunday, September 10, 2017—a first bested only by my first time evacuating my home for a hurricane, just two weeks prior.
Yet there I was that Sunday morning, walking up to NRG Stadium in Houston's trademark weather of sunshine and humidity, marveling at nature's mood swings. A little before noon, the Houston Texans would take the field under the watchful, red eyes of a bull named Toro. The week before, Hurricane Harvey's devastation had moved the final preseason game against the Cowboys to AT&T Stadium in Dallas, but almost as soon as the move had been announced, the game was canceled altogether. Players and staff wanted to return to their battered hometown, and I could relate; like the Texans, I was also in Dallas and ready to get home.
The Long Way Home
The way back to Houston had been muddled, even after the storm clouds moved on. The swollen bayou compromised roads, and damage to refineries threw Dallas into a gas-buying frenzy that resulted in a shortage courtesy of sheer paranoia. I had made three different plans to get back to Houston, and three times they had been thwarted by Harvey's wide net of destruction.
In all, for me, it turned into a two-week stay with relatives in Dallas and Alabama, splitting the time between places so as to feel less like a squatter. The Thursday before the Texans-Jaguars game, things finally cleared up enough that I could planes-trains-and-automobile it back to Houston. Driving back, a peculiar sense of awe struck me as I approached the downtown area, quite literally hitting close to home: just a few miles from my place, I was now traveling under highway signs I'd last seen on The Weather Channel with floodwaters threatening to make contact.
Houston Strong
When Sunday arrived, everyone from fellow photographers to fans were equally eager to see J.J. Watt and the Texans launch the 2017 NFL season and bring back a sense of normalcy to town. In the photo room, the standard greeting was, "Hey, how was the flood your way?" The flood would serve as a frame around each moment of the day.
This game was always going to be significant for me as my first to cover as a photographer, but it quickly dawned on me how much it was going to mean to Houston, too.
The game began as a huge celebration of Houston Strong, the battle cry of a town that had weathered its worst storm. First responders and police officers were brought onto the field and greeted to raucous applause, which only quieted down when there was a moment of silence held for the victims of Harvey.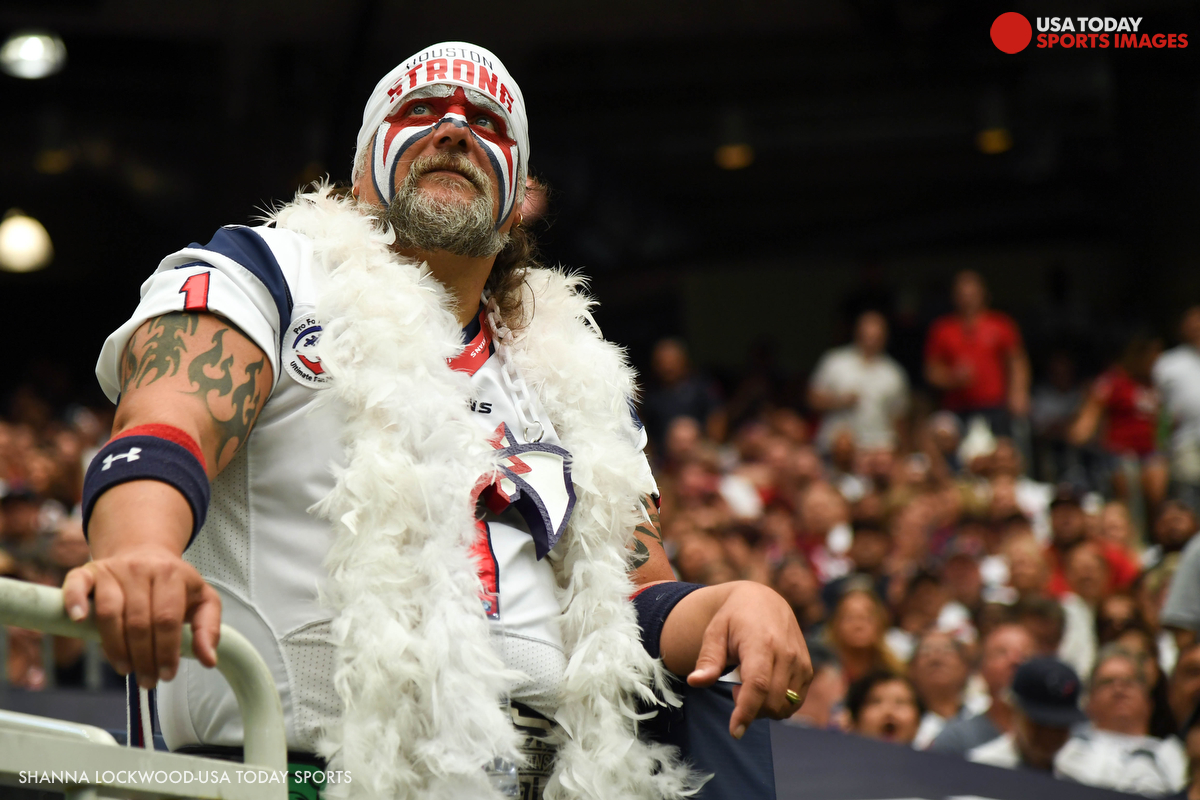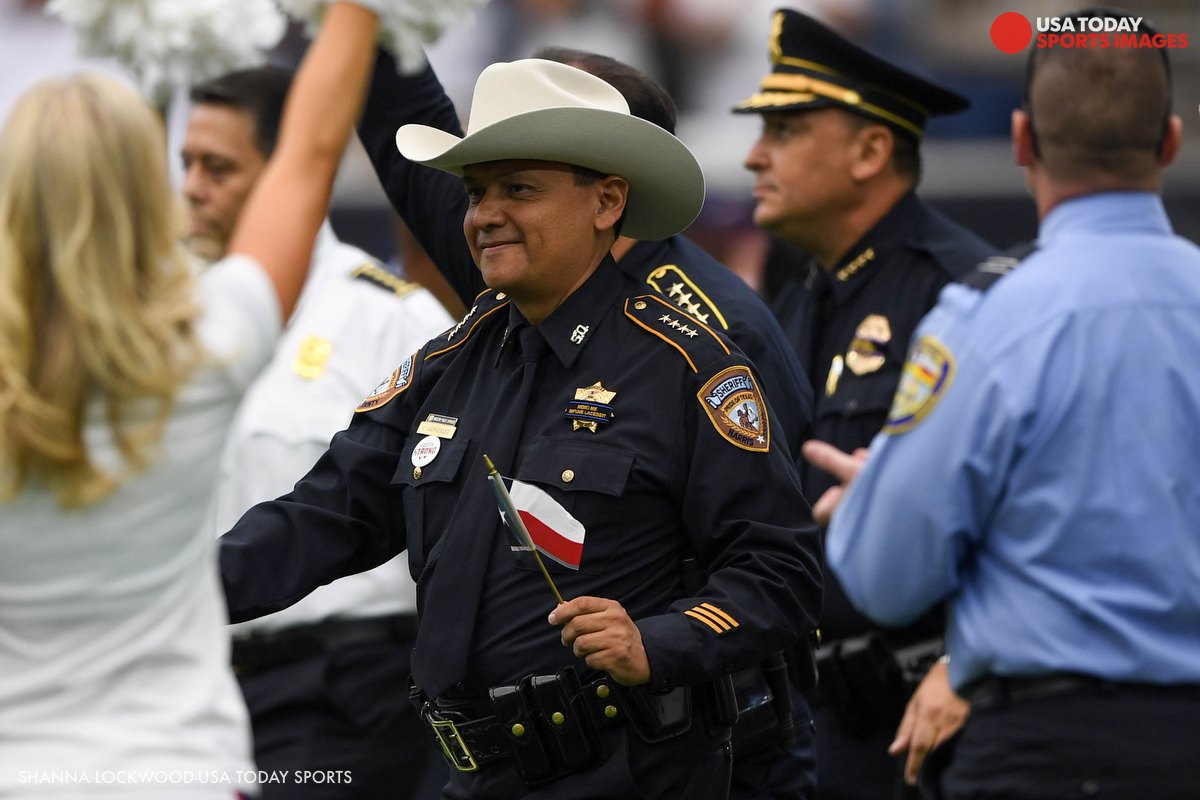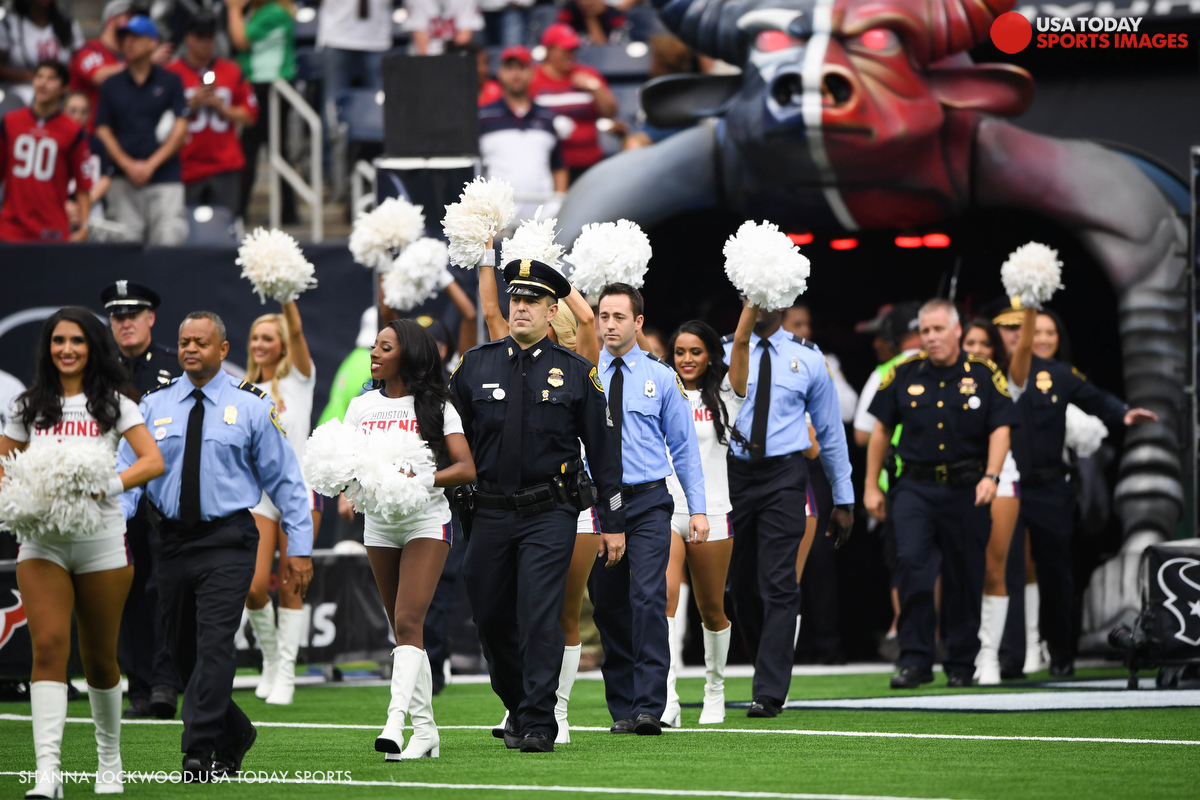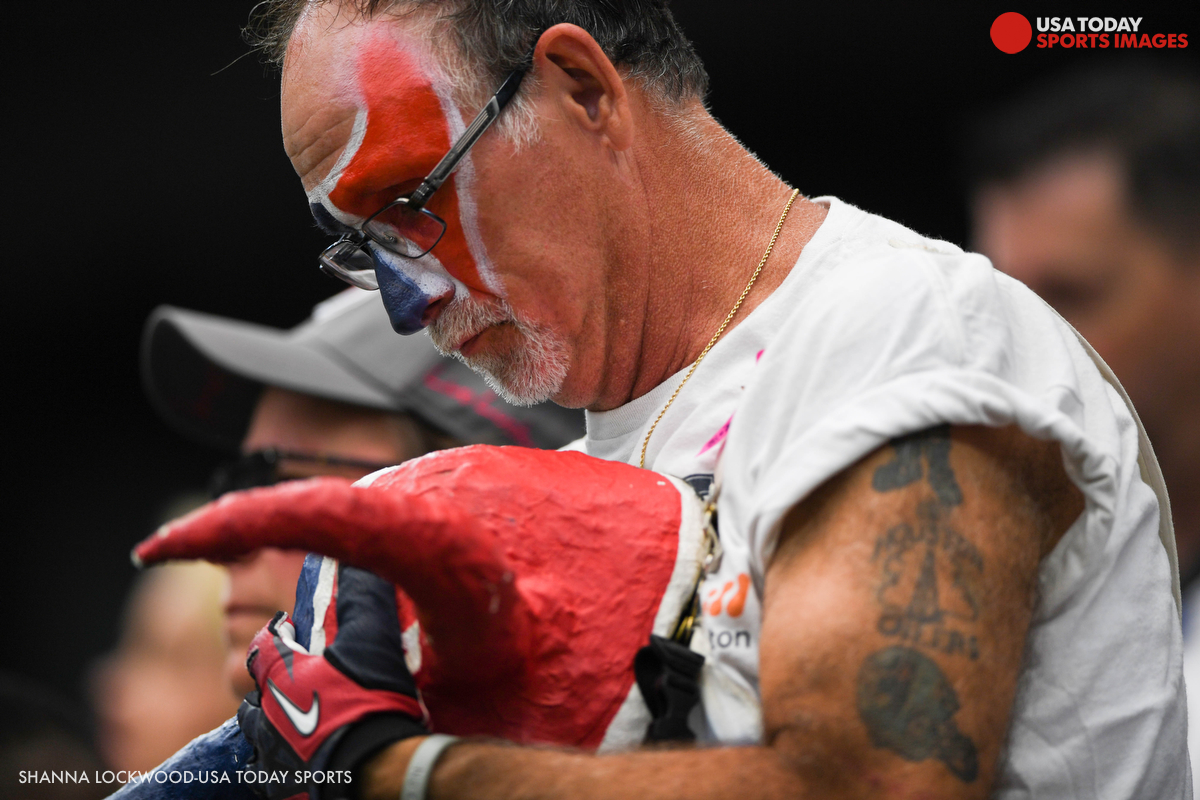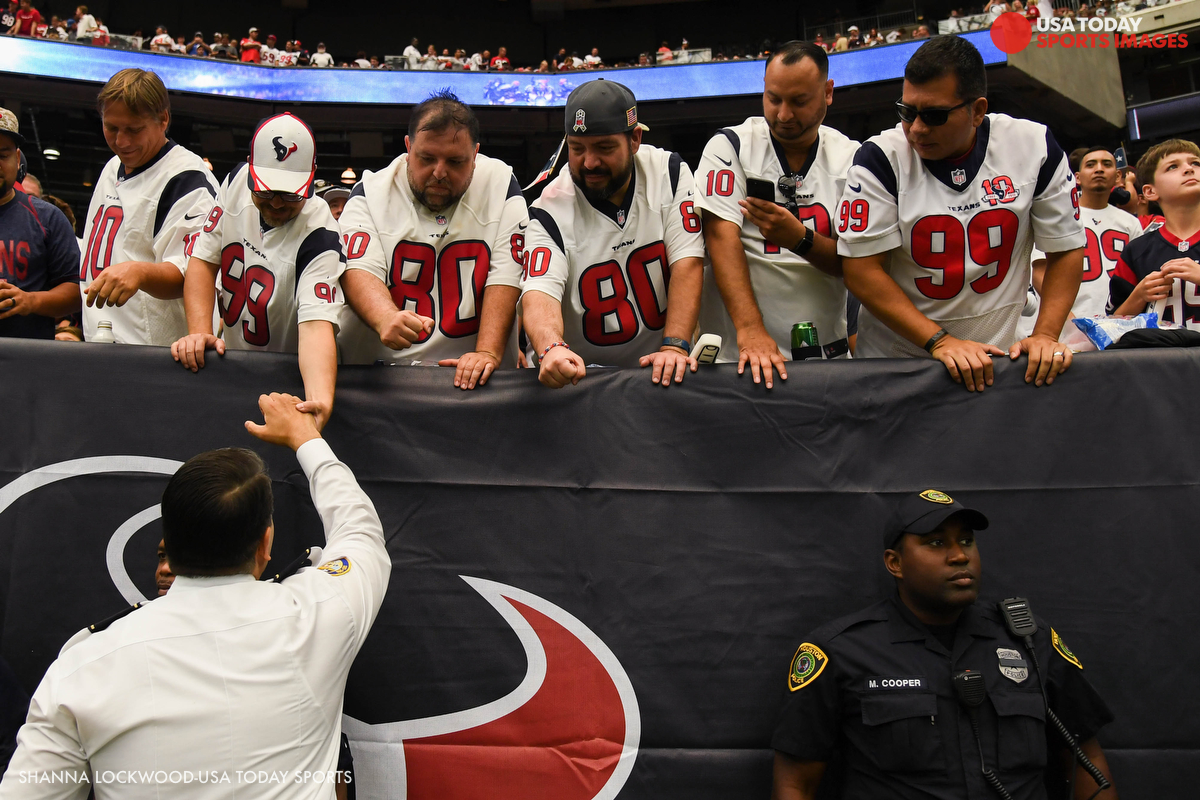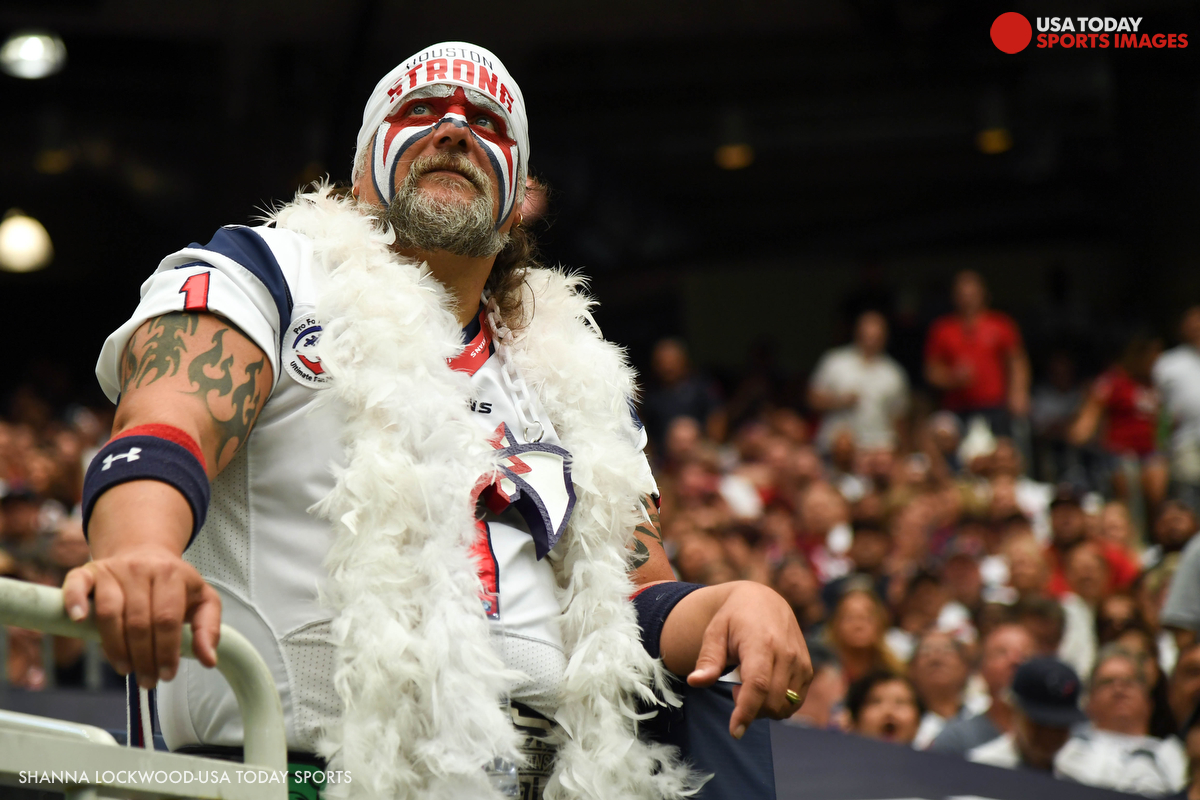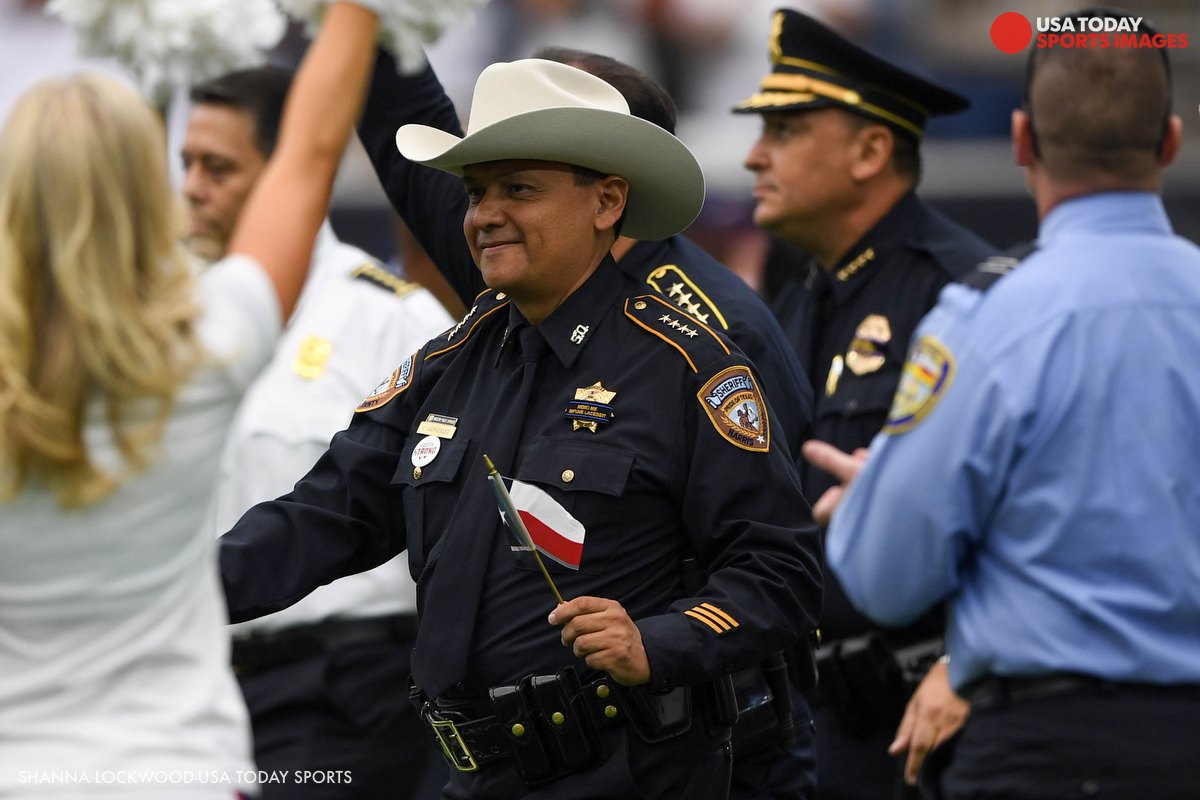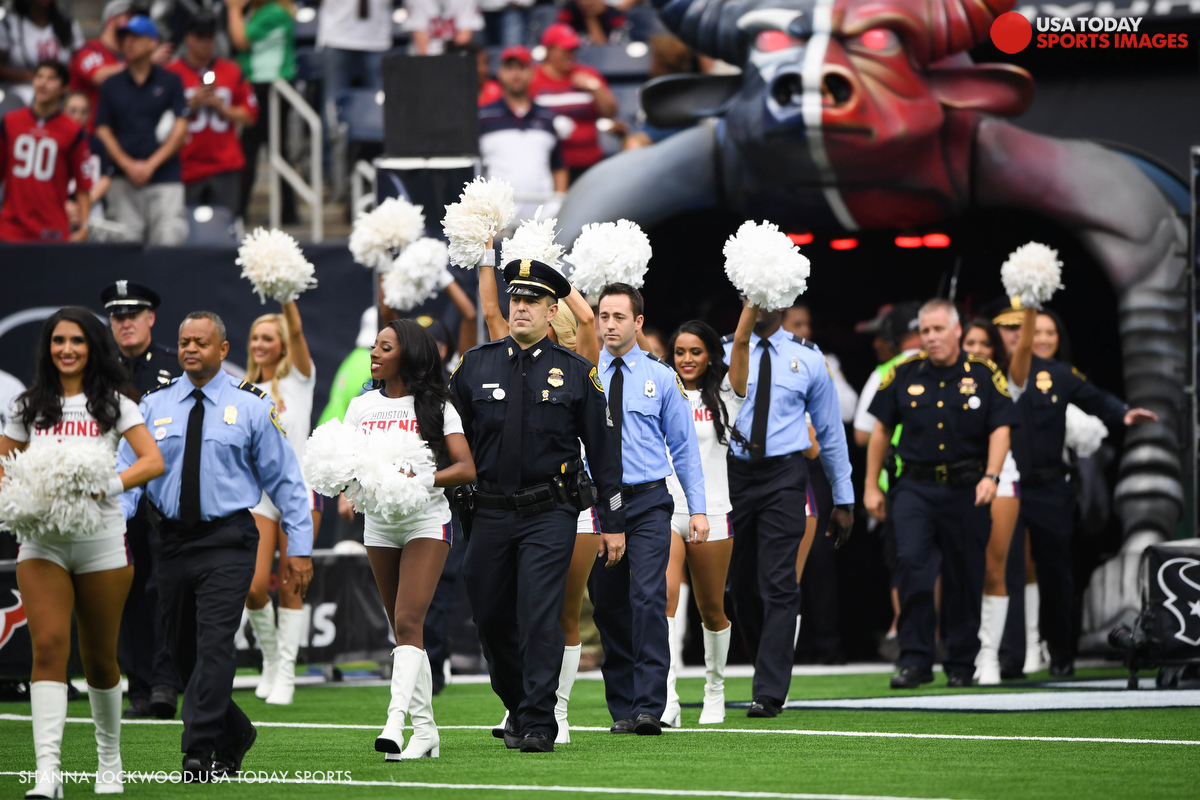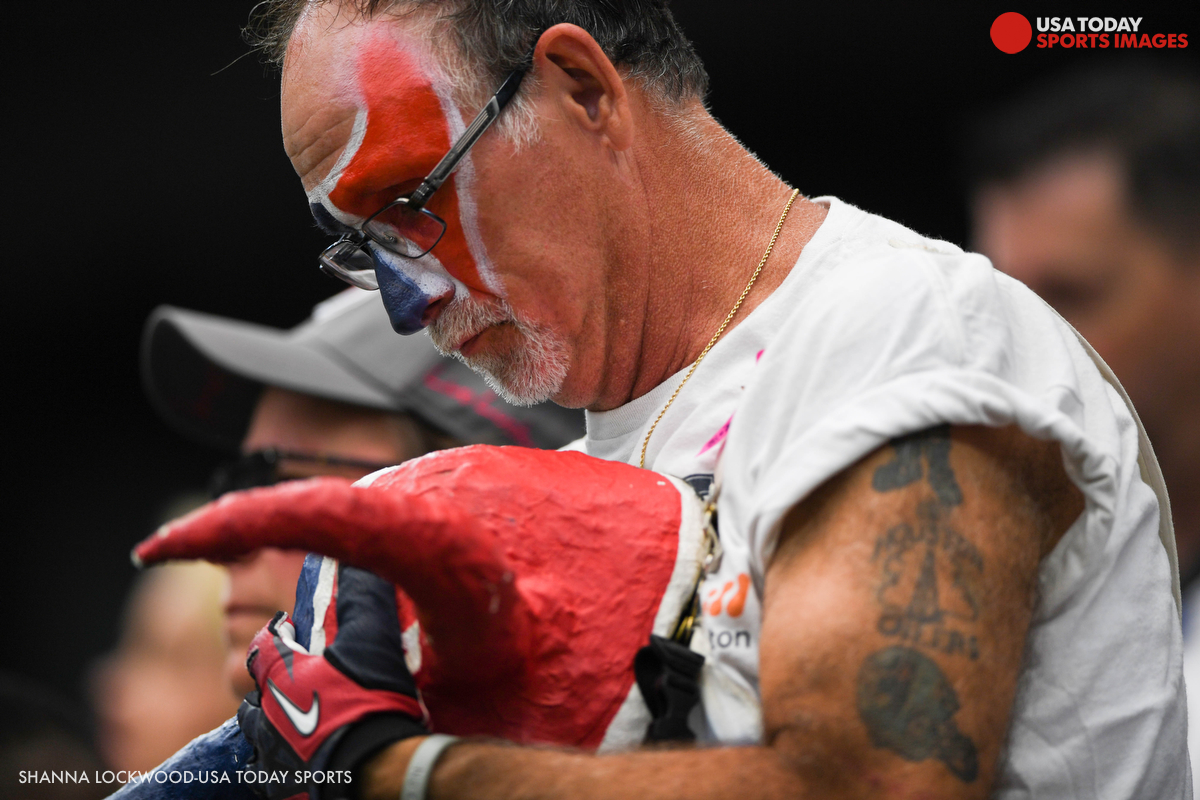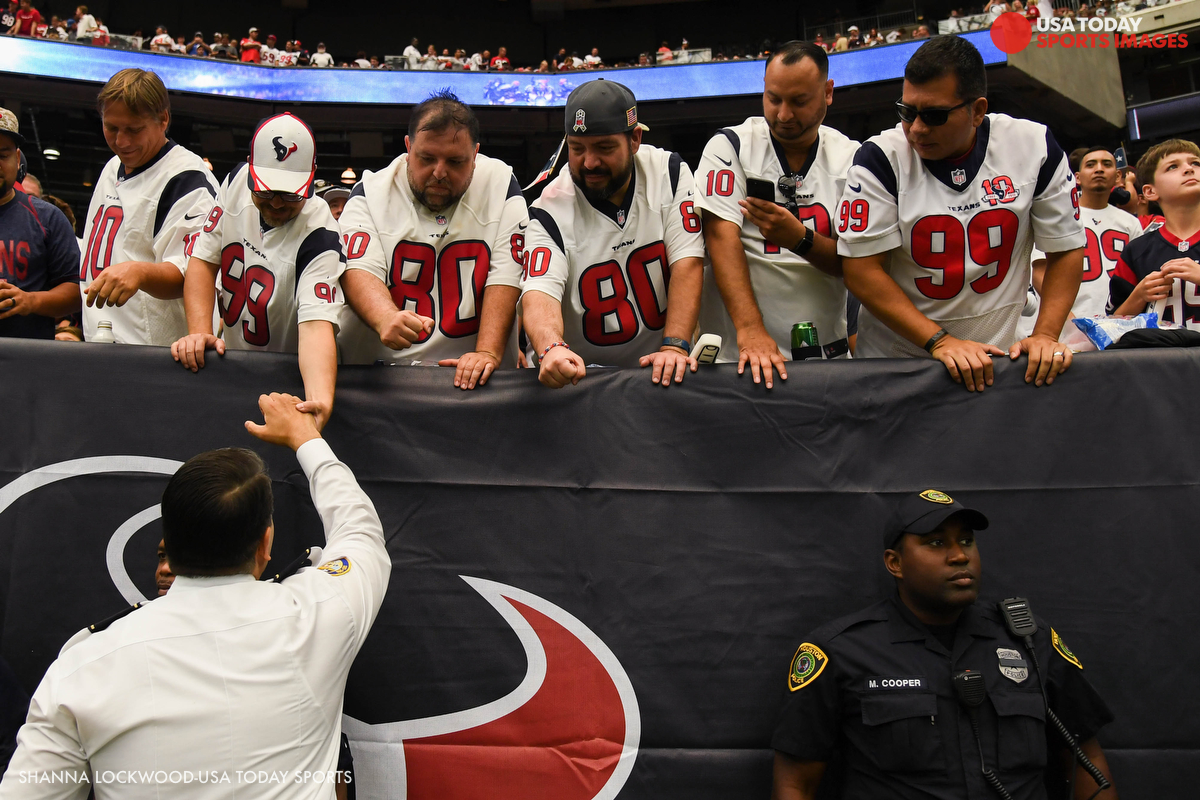 This was my first time experiencing the impact of Harvey with other Houstonians. As I looked into the stands and saw faces awash with equal parts pride and solemnity, I felt honored to be there at that moment.
In June 2017, I'd made the move to Houston to expand my photo repertoire, and to make a return to the metropolitan life I'd been missing. In the thick of summer, my new city welcomed me with hugs of humid air like a meteorological Stage 5 Clinger. As sweat mounted, so did my doubts about my move to a city built on a swamp.
There was one thing, however, I never questioned: the high caliber of the people in Houston.
In reporting on Harvey, TV stations made frequent mention of the city's status as the fourth-largest in the U.S., and as a result, the overwhelming number affected by the storm. This was all the more heartbreaking to me, as every single person I had met in Houston seemed to be cut from the same cloth, each of them welcoming, helpful, and resilient. If nothing else, the people of Houston subdued my fears about the move. Now, they were faced with unprecedented destruction in their homes. Not surprisingly, their response reflected the strong sense of community I'd become so fond of since I'd relocated.
Strangely, Houston was starting to feel like home.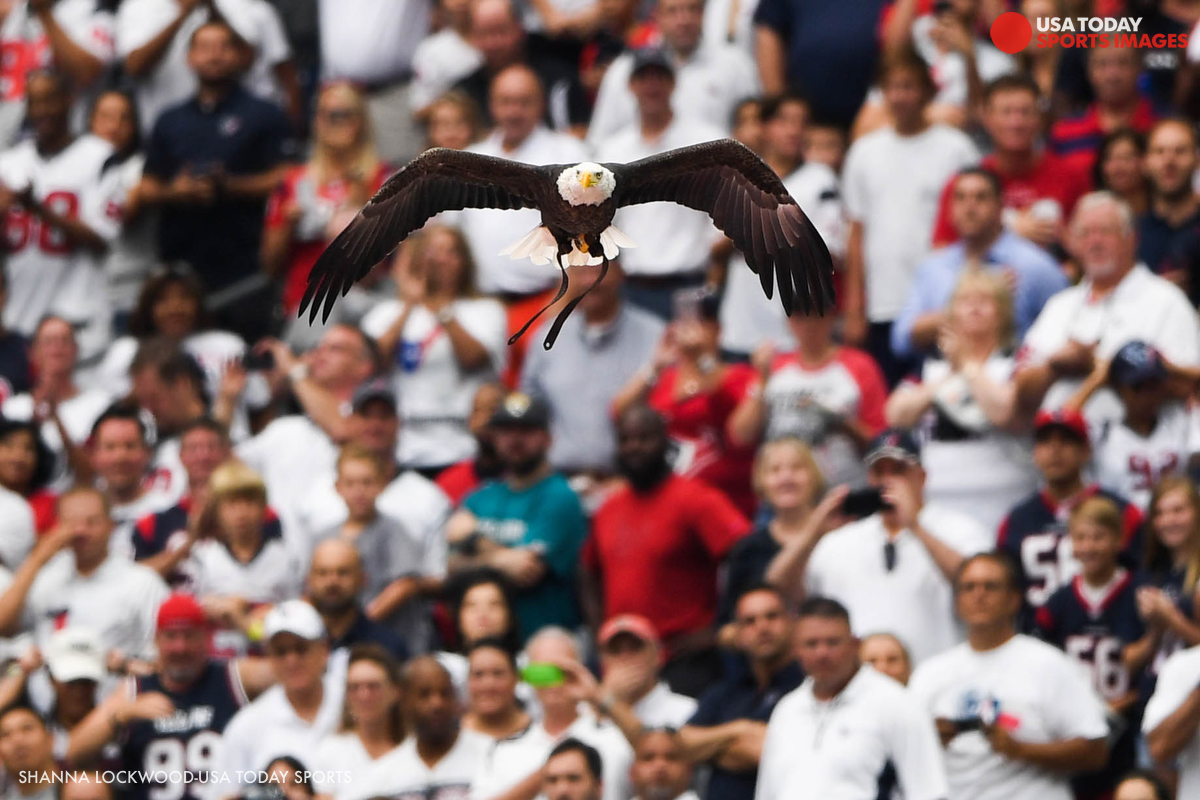 Another welcome sight before the game was the flight of a bald eagle named Challenger, who, like my alma mater of Auburn University, flew around the football stadium just before the national anthem.
Houston, We Have Lift OFf
The game was now minutes away, and I was ready to capture my first NFL action.
Up first, player introductions. I'll be honest: this was the photo of the game for me, and I was immediately grateful to have gotten something I felt good about, early in the day. The Texans' listless offense was met with a disruptive Jaguars defense, resulting in a game that offered few powerful moments from a Houston standpoint. I didn't know this at the time, obviously, but it's always nice to feel you're leaving the stadium later with a decent frame.
So, let's pan over to J.J. Watt's entrance.
A few players ran out before him. I used them to set my exposure and sort out where I needed to stand so that by the time Watt arrived, I was set.
J.J. stood in the shadows of the tunnel for a brief moment as the completely unnecessary announcement of his name was made. Then, plumes of flame and smoke shot up, and he raised the Texas state flag in a moment of chills-inducing triumph. A roar of cheers and shutter clicks filled my ears as I unleashed my 11 frames-per-second with abandon.
This is a man who had just raised a whopping $37 million for hurricane relief—he embodies Houston Strong in every sense of the term, and he was getting the ovation such a man deserves.
The next day, dear friend (and exceptionally talented photographer) Kevin Jairaj let me know this photo had made the paper. My first NFL game was in the books, and miraculously, in the papers, too.
Below I've included some other photos from the game. I had a great time working alongside Troy Taormina, my USA TODAY Sports Images partner in crime. I delighted in seeing some familiar faces from the MLB games I'd covered in town. I had a blast meeting new people that I can't wait to see again at the next game.
In just three months in Houston, I've had my first hurricane and first NFL game. In both cases, the entire city showed the nation what humanity is capable of when they're Houston Strong.
And it won't be the last.